QUOTE(Smooch @ Jun 22 2007, 09:33 AM)

Yeah a breader out at Cedar Creek in Brissy (near Jimboomba)

Where did you get your baby from?

I know this will sound morbid, but when Koda passes away, we are going back to the same breeder. Good stock. He has never jumped, so well mannered and just a big cuddly sook! I love him to death!

We got baby from a breeder just out of Perth, in Gigeganup - Clairedoree.
I can't think or talk about the time when Koda will pass away - I just get too emotional.
Koda is such a gentle dog. He never jumps up, and so well behaved. Mostly he mopes around and sleeps.
QUOTE(Melanie79 @ Jun 22 2007, 11:21 AM)
Another Golden Mummy here! Here is a serious one of our 3 year old boy Teddy. I like this photo because I think he looks like a lion! It was hard to choose from the 1,000's we have!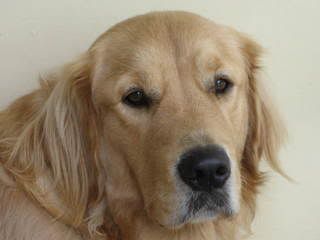 Awww he is so gorgeous!!!