We've just returned from our fabulous honeymoon. I thought I'd share my story. Warning - it is ridiculously long!
It is difficult to pick out a highlight of our trip because every city we visited offered something unique. If I absolutely had to choose my favourite destination I'd probably pick Rome. It was a feast for the eyes. The history just blew me away. In Rome you simply can't look down because around every corner is something amazing to see from a fountain, a statue, an amazing building or maybe just an impressive door!
We started our honeymoon with a few hiccups. To get to Rome we flew Qantas to London and transferred to a British Airways flight to Rome. We were sitting in the depature lounge when the dreaded words "CANCELLED" appeared next to our flight. Stunned we sat there wondering what the hell was going on. Next thing the following five flights were also cancelled! With absolutely no communication over the PA system we made our way to the customer service desk to join hordes of others wanting to know what was happening. The BA staff couldn't offer any explanation and suggested we come back in half an hour. The line to the desk continued to grow with frustrated passangers wanting an explanation so we decided to hang around. A computer delay had caused them to decide to cancel flights so we were advised to collect our luggage, go through customs and join the queue to rebook. After hours in a queue we were told they couldn't confirm us on a flight that day and the best they could do was waitlist us. After another few hours nervously waiting we were in luck and confirmed on a flight with 10 mins until depature. We bolted to the depature gate to find a queue of at least 100 people waiting to clear the xrays to get to their gate! We were so close and I was convinved we would miss the flight! Thankfully we got through and were the last passangers to run onto the plane. Our problems didn't end there. Our bags didn't make it to Rome with us. When we enquired at the service desk we were horrified to be told he couldn't find any record of our bags!!! Despondent, we left the airport thinking that was the last we'd see of our bags.
Thankfully they did eventually turn up some 18 hours later!
After our early flight and baggage hiccups it was smooth sailing all the way. Every hotel we booked into was fantastic. I used expedia.com.au and relied on past guests reviews to choose where we'd stay. Guests give a rating out of five so we didn't choose any hotels less than 4.5 and it paid off.
In Rome we spent our first few days exploring everything on foot. We must have walked for at least five hours each day. It is just as well though because I was quite partial to the food in Rome and managed to stretch my stomach large enough to enjoy a huge breakie of fresh custard filled pastries each morning, a huge bowl of pasta for lunch and then pasta followed by a main for dinner. We drank vino by the litre and occasionally there was room for a dessert of gelati! Ben had his best pizza at a ristorante near the Spanish Steps in Rome and occasionally we'd sacrifice a lunch of pasta for a simple lunch of a pizza slice on the go.
After exploring Rome on foot in the first few days we took the metro (inner city train network) to the Vatican and joined hundreds of others queue at 9am to get in. We queued for two hours which was the longest we ever queued while in Italy. It was worth it! I was very naughty and kept my camera turned on (it became a bit of a habit of mine) and took a pic of Michaelangelo's Sistine chapel ceiling works. It was breathtaking!
The next stop for us was Florence. Again we took in the sights on foot. We got to the Gallery Accademia at 8.45am and got straight in to see Michaelangelo's magnificent statue of David. Again I naughtily sneaked a pic. But hey so did everyone else! When we left the gallery there was a huge crowd waiting to enter so it definitely paid to get there early.
We sacrificed a visit to the Uffizi gallery to spend the day in Siena. A perfect choice I think. Siena is a medieval town and is just gorgeous. We spent a lazy day just walking around and enjoyed a yummy lunch in a little café hidden down one of many Siena laneways. It was there I tried Ribolitta which is a bread soup. Doesn't sound too appetising but was delicious.
Our day in Pisa was absolutely freezing. We climbed the tower and I nearly crapped myself thinking I'd fall over the edge. The marble is slippery in the wet and to make matters worse it was blowing a gale. It was very disconcerting walking around the edge in awful weather particularly when walking downwards on the tower lean.
Our days in Cinque Terre were very relaxing. After all the walking we had done it was nice to take it easy. The seafood in Cinque Terre was so fresh. I had two of my best meals there. The first night I had an entrée of spaghetti marinara and it came in a massive pot which was bought to the table. Speaking of stretched tummies, I ate two servings from the pot and there was even enough for Ben to have a bowlful after he had finished his entrée. I had a main to enjoy after that too! It is probably lucky I ate so much that night because it was the same night we met and kicked on with another Aussie couple (who coincidentally were staying in the same hotel) and polished off several bottles of wine. The poor owner of the hotel firstly attempted to quieten us with a call to the room. We thought we turned the volume down but soon realised obviously we hadn't when he turned up at the door demanding that we leave. Our new friend Nicole in her drunken state was determined to get her bottle open. She'd spent 10 mins before he arrived bashing it with a knife trying to push the cork through. The owner said to us "all I here is banga banga banga! You must leave". Nicole replied "but we can't open our bottle"….he was not impressed but we did compromise. He got us a bottle opener and we left the hotel and went to the beach.
We woke with the hangover from hell and didn't manage to leave the hotel until at least noon the next day to continue our exploring. When we arrived back at the hotel the owner stopped us and motioned for us to come over to the bar. Seriously thinking we were about to get a lecture for making so much noise, to our surprise he pulled out a bottle and said "I want to share something with you". He poured us all a glass of Prosecco each and put our a plate of caperberries and motioned for us to join him. He then stood at the bar and starred at us. We awkwardly tried to make small talk which was met with very brief answers and he then promptly skolled his wine and excused himself. Perhaps he was seeking an apology or maybe he was just evil and torturing our hungover souls with more wine. Whatever the reason it was bloody weird.
The next stop was Venice. Our hotel in Venice was one of the best we stayed in located right on the canal. The following morning Ben walked out of the hotel and almost stepped straight into the water! We spent our days in Venice travelling up and down the Grand Canal on a vaporetto (a sort of water taxi). The weather was coolish in Venice which worked out well for us because there were barely any crowds around. Our last day was sunny and warm and we were surrounded by hordes of people!
One of the highlights for me in Italy was tasting the food in each region. There really was a distinct difference in the cuisine. We tried so many different restaurants but in Rome the restaurant which was a short walk from our hotel was sooooo good that we ended up eating there three or four times for dinner! The waiter recognised us and treated us to glasses of limoncello (a lemon liqueur) after our meals which was delicious.
Malta was an eye opener. I didn't really know what to expect and absolutely loved the friendliness of the Maltese. It was much more laid back, quite backwards (just look at the buses circa 1930s!) and surprisingly filled with a rich history. The stone structures you'll see in our Malta photos are just amazing. There are dated prior to the pyramids of Egypt before the invention of the wheel. No-one really knows how they managed to lift the massive stone structures to create the temples. We enjoyed one of our favourite meals in Malta and went back twice for dinner. Again it was nice to be recognised, especially since it was such a busy restaurant and the owner came over for a chat and shared a Maltese prickly pear liqueur with us.
On our return flight from Rome to London I ordered a diet coke and was given two bottles of French champagne instead! I was too shocked to ask why but think it may have had something to do with the fact that we were stuffed around so badly on our flight over. Whatever the reason it was delicious
We were gone for 3 1/2 weeks but it felt much longer. Perhaps it had something to do with all the walking we did!
We had a wonderful time but it is great to be home. Once I recover from my dreaded jetlag I'll be fine
I'll post a few pics of our honeymoon.
xx
Rome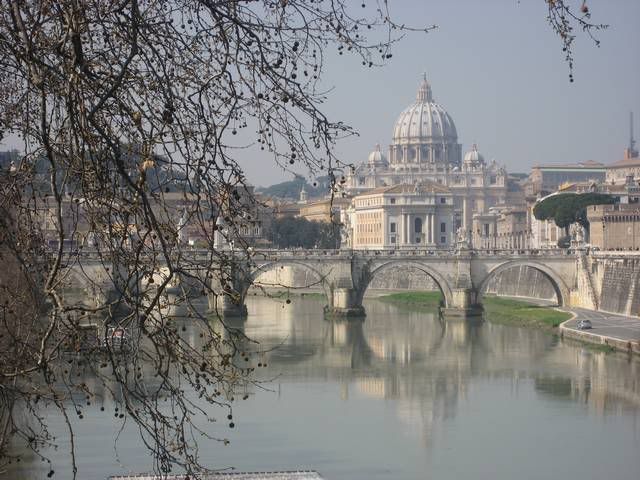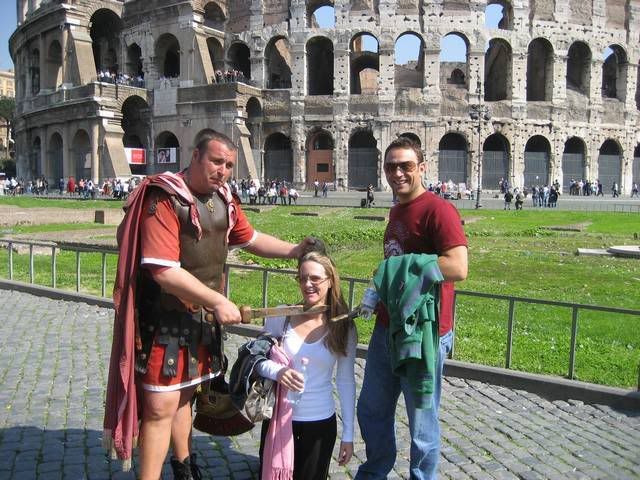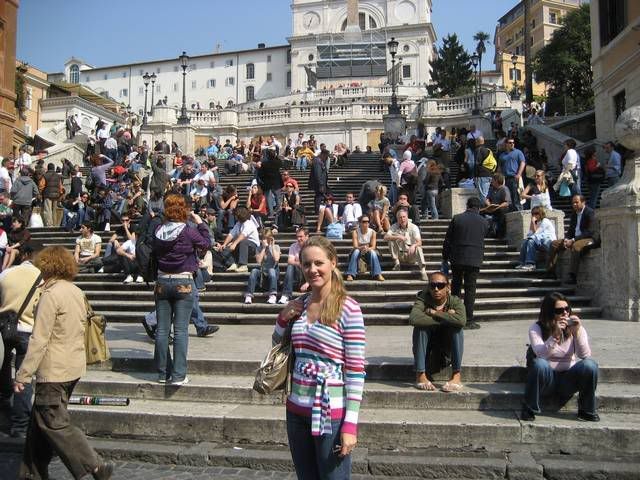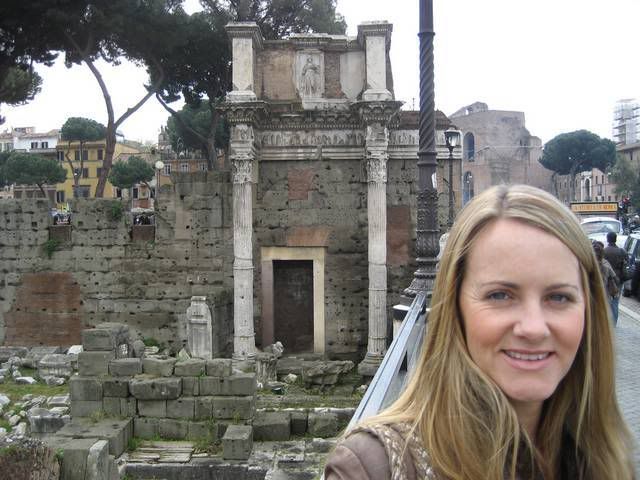 Venice
Malta