I had my hair and makeup trial this morning and I absolutely lovet it! Paul was great all I asked for is a french roll, sat on the seat and left everything up to him. I didn't tell him what kind of makeup I wanted I just let him do what he fancied basically. He didn't ask me either, come to think of it. I am very happy with both.
Thank you so much Siew for recommending him!
Before shot - a particularly bad one, just woke up after only 6 hours of sleep. Completely sans makeup.
After
I thought it looked very natural. Still looked like me but a much better version
. I loved what he's done to my eyes, just made them pop without being overdone. I still look like me. I like the lipgloss but more as an everyday colour. I'm on the lookout for something deeper.
veil on
back of hair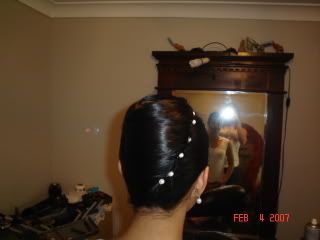 I love my hair! It's exactly how I wanted it to look. Someone said I could do with less pearls. I agree. What do you think?
side view