Beck, I am so sorry to hear about your flowers - we would like to see pics of them anyway if you can. But if you want to wait until you have got them right, then that's OK too. It is very exciting that some of your invitations have gone out! I cant wait for that to happen! I am waiting for all my paper and stuff to come, which seems to be taking forever, it's only been a week and a half since I ordered it all, so I guess that I shouldn't panic yet
I still haven't been back to the florist to discuss the change in flowers… though I guess that I had better do that this week.
Glad to hear that your harvest is going well, Tamara, ours is also. Probably will really start to get busy by the weekend, at the moment there is a trickle of canola coming in, but that's about it. Will start to step up really soon, and if the weather stays like this, the wheat is going to come in really fast.
Shazz, I am glad to hear that your groomsmen troubles are partly sorted out – that is excellent. Hopefully things keep going well. Let us know what you decide on for your honeymoon. I guess that I had better think about booking our tickets really soon!
Well, my good news is that I have shoes. Very excited about it – one less thing to think about.
This is them;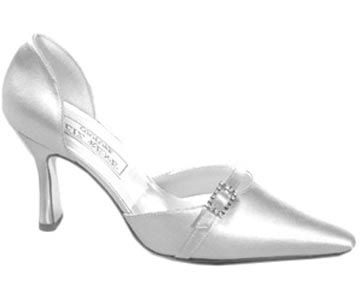 I like them very much, and I cant wait to get them so that I can have a prance around and try them out, and get used to them.
Also, my veil arrived yesterday from Melanie Lousie, and it's gorgeous! I love it so much! I put it on my head last night and MIL is going 'that's on the wrong way blah blah' but she was wrong. She tried to tell me that the comb was in the wrong way. Bah – what would she know.