I am not as active as I was a few years back but after reading Heather's birth story I thought I would add mine as well.
Firstly my due date was 2nd July. Nothing at all was happening - no BHs no nothing!! I had a stretch and sweep Tuesday 10th July (40+8) and was 1cm which the Ob was excited about. I was booked in for induction Thursday 12th July - 40w + 10.
Nothing happened between the S&S and Thursday so I rung up to make sure we were good to go in. I had the first lot of gel at about 5pm after about 2 hours of monitoring and I was transferred up to the maternity ward to see wait and see how things go. They gave me a sleeping tablet at around 8.30pm to help me rest but woke me at 9.30 to go to birth suite for monitoring and the next lot of gel - needless to say I was a bit sleepy and was wheeled down!!
The midwife was going to break my waters if she could, but she couldn't as my cervix wasn't doing the right thing and I was still 1cm, so another lot of gel and I was back up in the ward at midnight. I was woken again by a nurse at 2.30am to do obs and to use the doppler to check Bubs. I had broken sleep as my room mate snored really loudly or was groaning! 6am I was back down the birth suite for more monitoring and the next lot of gel. I had some cramping but not much and I had not progressed since the 1st lot of gel. So 3rd dose was given and I was sent back up to the ward. My Dh came for a visit but went home so we could both nap.
Around 3pm I was taken back down to birth suite and the midwife said I'll be coming back up with my baby. So more monitoring and I still was 1cm (no points for consistency either). A cute doctor came in at about 5pm and he broke my waters. I was so glad they offered me the gas as the internals were starting to be very painful due to the gel. There was meconium (sp?) in the waters which the doctor could not tell if it was because she was overdue or stressed and her heart rate was concerning them abit so they put a monitor on her head.
Dh was called as I was finally getting contractions. I was confined to the bed due to the monitoring (the clip on her head and the CTG). A concern was Bubs heart rate was not varying enough (it was steady the whole time). After 2 hours of being on my back or rolled from side to side (to help pick up bub's heart rate) I couldn't handle the pain anymore. The gas made me feel ill so I asked for the epidural. I got up to go to the bathroom and the movement made the contractions easier to deal with but they were also prepping me for the drip. I came out and the anesthetist was there cracking jokes and by 7.45pm I was in epidural heaven!! This was when they started the drip - my contractions were pretty crap even with the drip. At 10pm I had a check up and I was 7cm but the doctor said that her head wasn't quite in the right position (almost side ways) and my contractions were about 3 in every 10min.
2am I was fully dilated and we gave pushing a go (hooray) which was difficult as I couldn't feel the contractions and the midwife had to tell me when they were happening, my DH had to hold my leg as well as I couldn't feel it. Bubs heart rate wasn't recovering like the midwife wanted and nothing really was happening.
Due to bub's heart rate concerns I had two doctors consult on the next course of action since the labour was not progressing and they couldn't agree on her position (after internals, ultrasound and prodding) so I was prepped for theater and we were given two options. 1st was to try an episiotomy and Forceps but due to her head not being in the right position they couldn't guarantee it would work or option 2 was to go straight for a c section. I told them I wasn't being cut twice!!
The doctor had to push a little bit of bub's head back up before doing the c/s but our little Polly was born crying at 4.30am. She did have a massive cone head for the first few hours and was wrinkly like a shar pei puppy!! But we are besotted.
Polly Jean weighing in at 7 pound 4 or 3.3 kgs, 51cm long and her head circumference was 33cm so pretty tiny considering she was 12 days late!!
She is now nearly 2 months and weighed in today at 5.75kg, 57cm and her head was 39cm. We are formula feeding after bleeding nipples and a few other reasons. Not an easy decision to make I was in tears and felt guilty for a bit. But we are both thriving and happy so that is the important bit.
And of course some pictures - I don't have any really recent ones (apart from on FB)
Out she comes
Our little family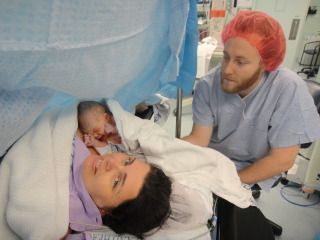 Oprah was with us in one of the monitoring sessions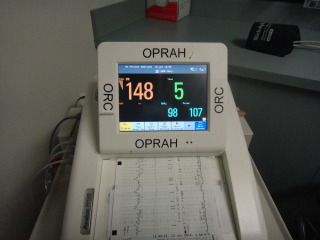 All stretched out
NFL Fan?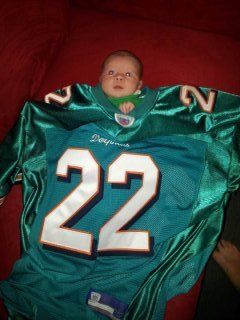 Asleep - finally
Eskimo baby (the suit is 0000!)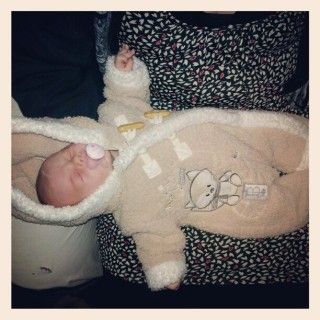 Bat baby - her dad has an obsession with comics...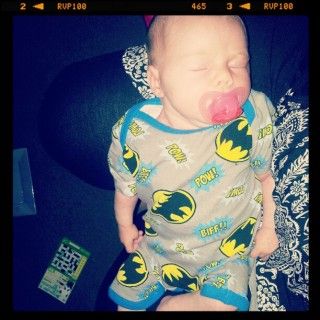 Fashion clash - stripes and spots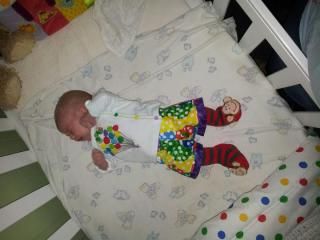 Dressed in pink ready to go out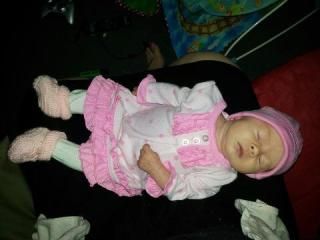 Learning to play xbox with her dad