The Birth of Amahlia May Cronin
From 20 weeks my fundal height was measuring 5 weeks ahead and I felt huge. The further along I got the harder I found doing things such as picking up after the kids etc. As I was measuring so big my ob sent me for an early GTT test (at 24 weeks) which I passed. She sent me for another GTT and scan at 32 weeks as I was still measuring so far ahead and I failed . This meant that I couldn't have my c-section at the hospital I had the boys and had to go to a much, much bigger hospital 3 hours away from home. I had NO trouble controlling my GD and only had 1 high reading the whole time and that was in my first week of testing. Controlling it got easier the further along I got.
The day before having Amahlia I found leaving the boys was much harder than I thought it would be. I took them up to mum and dads and promptly broke down as soon as they were in with pop playing on my mum. I was fine about leaving Zack as I had left him before but leaving Ashton was hard. That day we drove to my nans so we were only 30 minutes from the hospital I had to deliver at. I had to have blood taken when arriving and James and I did some last minute shopping. That night while having tea, nan got a phone call, as I was listening I picked up that there was something wrong with my sister. She was 32 weeks pregnant and admitted to hospital, they had started giving her steroids and she had to go to John Hunter Hospital the next day as the baby was small and where thinking the baby had stopped growing. I spent all that night worrying about her and had no sleep, and it wasn't even about nerves from having my baby.
We had to be at hospital at 6am so we got up at 5 to get ready to drive to the hospital. When arriving we were put in the smallest room with 2 other people in it I couldn't even walk around the bed without bumping into the curtain dividers. I whispered to James I am so not staying here. I was given the sexy robe to change into and told to wait. Finally a midwife came to introduce herself and get me ready to go. I was given the horrid tasting stuff to drink as being wheeled to surgery. James thought it was funny watching me gag as I tried to drink it. While waiting to go into get my spinal (the thing I was most scared about as Zacks took a long time and Ashton took over an hour, a HUGE bruise and talk of postponing c-section) I said to James I wonder how my sister is? I was still so worried about her). The anthesis nurse was a crack up and swore like a trooper, he joked around the whole time, I am still shocked at some of the things he said but he kept me calm. DH was aloud in with me this time when getting the spinal which I liked because he knew how scared of it I was. It turned out they got it in first go so wasn't bad at all like my first 2 times.
I was then wheeled into surgery, James was let in to sit at my head. Next I heard them snipping which was horrible and I said to James I think they have started. I could feel all the pulling and tugging and knew it was getting close to she was here. They told James to get ready with the camera and she was held up for us to see. She was crying like a trooper. She was taken over to the table where James cut her cord and cleaned up and I could hear her crying the whole time. Felt like ages before she was brought over to be to cuddle. The anthesis took some photos of the three of us and I got to cuddle until they were almost done stitching me back up. Then James and the midwife took her to check her blood sugar while they put this pain relief (tap) thing in my tummy (it was really good I had no pain until the next morning). As I was wheeled into recover James, Amahlia and the midwife met me there and I was told her blood sugar levels where down to 1.4 so we tried to feed her but she wasn't interested. We started expressing and getting some into her. Her levels went up to 1.5 and the pead was called. During this time she started breastfeeding but when the midwife came back she told me the pead had ordered we give her formula. This still annoys me and if I was thinking better I should had refused to take her off the breast when she had just started feeding but I didn't. She wouldn't take the bottle so was taken to SCN with James. I was left in the room by myself trying hard not to cry.
As I was being wheeled to my room I met my sister, her fiancé and my nan on their way back from her scan (baby is very small but still growing so good news) my sister asked me if I was ok I said yes and she gave me that look and I burst out in tears. I was taken to another room without my things and told they don't know if I will see her again today as they can't take me to see her and that her BSL was now what they call normal at 2.9. While they were getting me set up and doing my obs in my room my IL's turned up, which I was unaware of. The midwife sent everyone up to SCN to see Amahlia. Another midwife came in and asked me if I had seen my baby yet and asked if it was ok for them to see baby and I said no not until her brothers see her. So there was a big rush to ring SCN to tell them my relatives couldn't go see her. James came in annoyed that I wouldn't allow his parents to see her and I burst into tears. He quickly got over that. (When he told me the day before his dad was coming to see baby I said not until after 3pm when the kids have seen her the kids were coming at 3pm either he didn't tell them or they ignored it as I have later found out that when MIL saw my sister and Nan she went off as James hadn't rang her yet…we were kinda busy). MIL and FIL at this time while I was crying with James came in and MIL promptly told me she had to see James in a humidicrib so get over it I might just have to see her in one too. It was the first time I had seen James since he went with Amahlia so I had no idea what was happening and really all I was worried about was not being able to see her until tomorrow. If I was thinking straight she would have been told where to go right then and there.
Everyone left and I was again left alone without my things I wanted my phone to ring my mum but it was in the first room I went in. Then our lovely midwife that was with Amahlia and James came to see me. She told me her BSL had dropped to 1.5 again and they were putting a drip in her arm. I heard her ask another midwife if she cleans the private room herself can she put me in it as I was a private patient. I could have kissed her. She told me the only problem is I would have to move onto a smaller bed I said I would do anything to get into a private room. So she cleaned the room and I moved (without assistance) onto another bed. Both James and I asked 100's of times for me to go see her or her come see me but I kept getting told they can't take the bed in there I was like can't I get into a wheelchair they said no you can't move, even though I moved to another bed by myself it didn't matter. I was also told around this time that she had a soft pallet, I still don't really know what this means but I don't think it is very serious as other dr haven't been able to find it. We have a specialist appointment next month at John Hunter about it.
9 hours later they brought her into me. She had a feeding tube in and a drip in her arm but it was wonderful. She promptly breast fed again. I finally won the battle to call her Amahlia May . I got an hours cuddle before she was taken back to SCN and I continued to express feeds over night as for some reason they wouldn't bring her in to breastfeed.
5am the next morning she was brought into me and she stayed with me most of the morning as she was breastfeeding they let her stay longer with me. It was just me and her and I loved it. James arrived around 8 where I got out of bed for the first time and showered. We had to take Amahlia to get her BSL checked again at the SCN. They were good still so she was allowed to come back to my room but every 3 hours I had to take her to SCN to breastfeed her and then she was given top up feeds by order of the pead. Her BSL stayed normal all day and night. Thursday morning we stopped top up feeds through the tube and if her BSL stayed normal I was allowed to be transferred back to Scone that afternoon. Which they did so James drove me and Amahlia to Scone. From then on everything was good and it was good to be in my familiar hospital.
James was very cranky as he thinks her BSL dropped after they took her from me at recovery at 9.30am was because they didn't feed her again till 1pm. I don't know what to think, I know he was stressed trying to be there for her and me and to me it doesn't seem right that they wouldn't feed her once she got to scn when she had refused the bottle and only got a ml of expressed milk. Its over now though and all is good.
Sunday we were home. She is feeding like a champ, I am yet to have sore nipples and haven't put any cream or anything on them. Zack just loves her to death and won't leave her alone. He calls her Narnia. He told mum and dad while driving to meet her that her name is Narnia. When we told mum her name mum decided that I must have told him Amahlia one day and that's how he says it but I have never told anyone in real life I like the name Amahlia so he came up with that himself. I think its freaky how close it is to her actually real name. He still calls her Narnia now, which I think is cute.
You have done well if you got through all this. It is very jumbled up as my mind was quite a mess and I have wrote things as I remember them happening.
So Amahlia May born on the 5/6/12 at 8.41am
Weight 3360 or 7lbs 6.5oz
Head Circumference 34 cm
Length 49cm
Now for pic overload
First glimps of her
My first cuddle after she was taken to scn for hours
Me seeing the boys meet her I missed them first seeing her as DH took them to scn while I was stuck in bed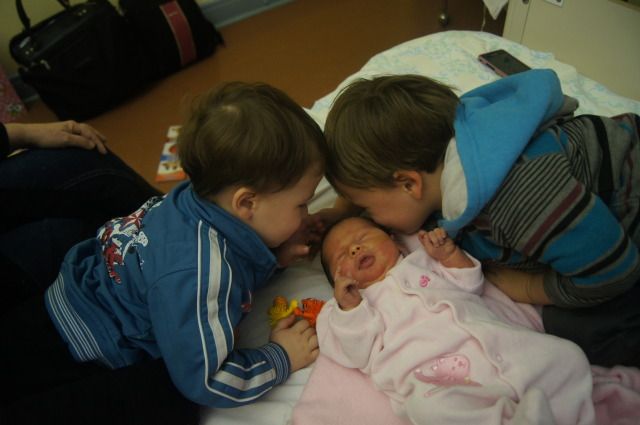 Going home outfit
going home 2nd ride in car as DH drove us from one hospital to the other
Zack and Amahlia
Amahlia and I
Me and the kids
Last one I promise my precious girl
Zack and Amahlia not sure what happened before