The day before: I finally finished the last bridesmaids dress at around 2pm, then Andrew and I, along with BM3/my cousin, went out to get some last minute things, like the candle for the unity ceremony, and a much needed chocolate fix.
We returned home to the BBQ that Mum had organised with our neighbours and some family friends. During this time, my other bridesmaids arrived, and Andrew headed off to his groomsman's place where he was spending the night. MOH and my honourary SIL plaited the handfasting cord for us so that I could be more sociable, and later in the night, BM2 painted my nails, while MOH sewed the buttons on her (BM2's) top. We went to bed fairly early, though I confess I didn't sleep very well.
We got up at 6:30 on the wedding day, so that we could shower, dress, eat breakfast and be at the hairdresser's by 8. I am a big fan of breakfast, so I'd organised for Mum to make us pancakes - a great way to start the day. It was BM2's (Sally) birthday, so we put a candle in her pancake, sang 'Happy Birthday' and I gave her her present.
The hairdresser was my usual one and local, so that was fairly unstressful. MOH (Jill) got us coffees/hot chocolates from her aunt's cafe a few doors up and we were able to quietly wake up properly.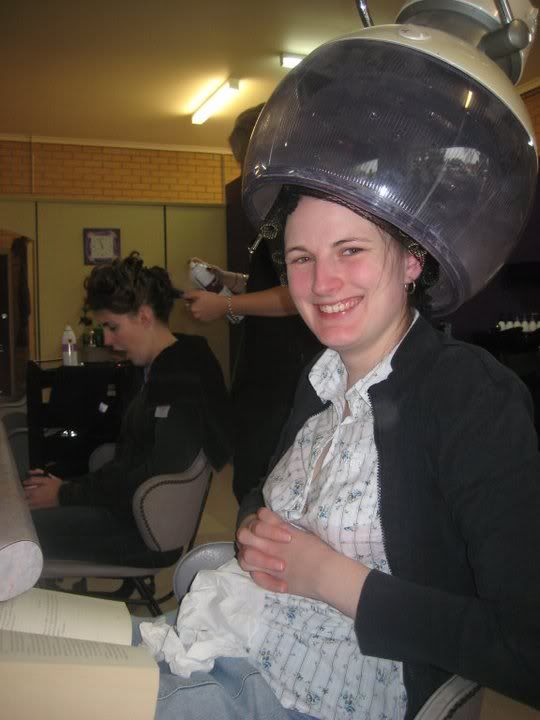 For someone who didn't want curls, that sure looks like a lot of curls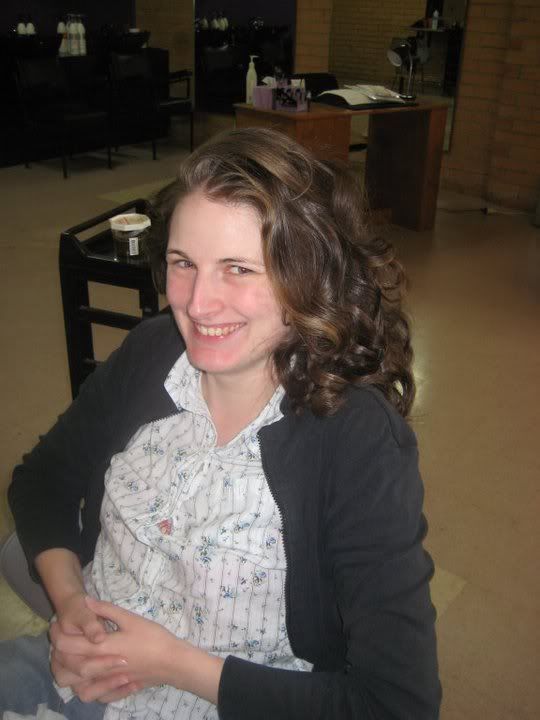 but they were used to create the fullness in the back
I was a little concerned when 5 minutes before we were supposed to be done, the hairdresser showed me the back of my hair, I said "It was swirlier when we did the trial" so she pulled out the bun and started again! Jill and Sally's hair still wasn't done at this stage, so we roped in Jill's husband to collect the flowers and deliver them to the relevant places, as well as dropping BM3 (Sarah) at home to have her make up done by my MIL. Meanwhile, we got a text from Andrew telling us that the boys were out to breakfast!
Eventually, we all made it home, ate lunch (bread rolls, boring but filling) had our make up done, got dressed, had some photos taken... My older brother decided not to wear a tie ("Ties are for work") but since he flew in from London, while my little brother didn't make it from Canberra (his girlfriend wasn't allowed to travel due to being heavily pregnant, and he wouldn't leave her. They seemed to think the baby was going to be born soon. It still hasn't.) and because it was almost time to go, I sighed and didn't argue with him.
Finally, my bridesmaids and I got in our London cab, and headed to the wedding.
The weather had been drizzly all morning, and while we'd been hoping for it to clear up like the previous day, it just didn't. So when we headed up the driveway of the venue and couldn't see anyone, we assumed that the ceremony had been moved inside. Thankfully, as we got a bit higher, and around a corner, we found that they'd just been hidden by the hill, and my outdoor ceremony was still going to happen.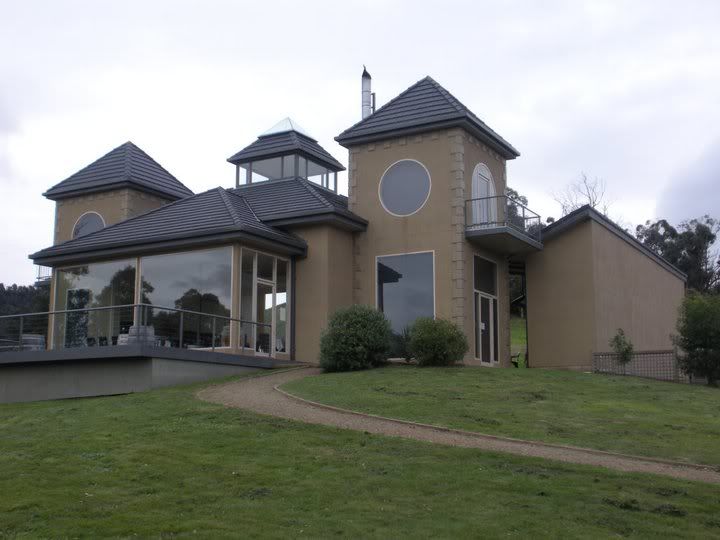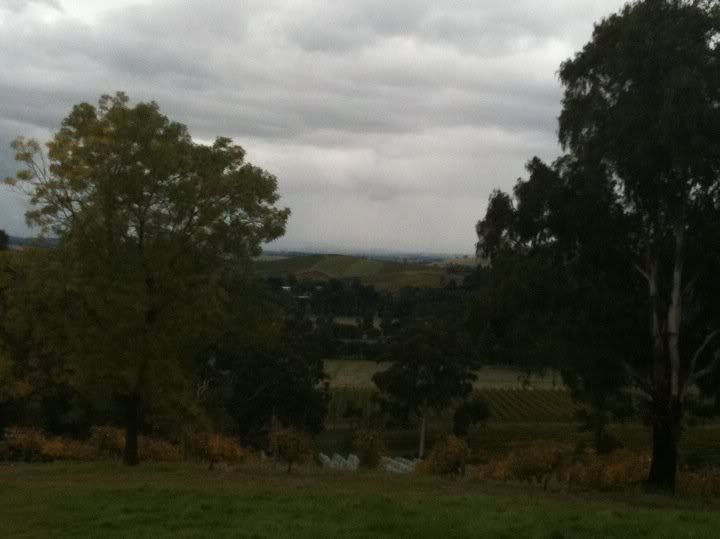 We pulled up and I worked up why Americans have full wedding rehearsals, with everyone there - so the bride doesn't end up stage managing the walk up the aisle "Go...go...now you..." My big brother (another Andrew) walked me up the aisle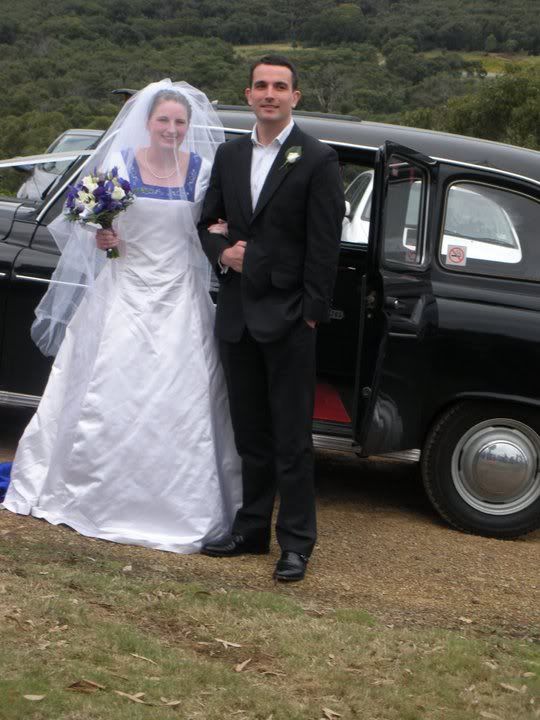 "You're going to have to lift my veil when we get to the end"
"Shouldn't Dad do that?"
"Well, yes, but I didn't think to tell him, so you're going to have to do it"
Thankfully, Mum and Dad were standing at the end of the aisle, and Dad was able to do it, then I walked the last few steps to Andrew myself - it worked perfectly.
Whoops, I forgot the photos of our nieces and nephews walking up the aisle!