Hi Ladies
Thought I would share with you my hen's night!
I had my hens night on Sat 13th Feb (some say a bit early than usual)
However my FH works on an oil rig and is away most of March…..and we wanted to have the hen/buck shows on the same night so we picked this date
It was an amazing night!!!!!!!!! One of the best nights out ever!
All my bridal party and my brothers gf met at my place around 5pm and we had a wine and waited for the taxi to arrive at 6pm to take us to dinner
The girls soon announed the taxi was here so we walked out the front and there was a Chrysler stretch limo waiting for me!!!! What a surprise!!
I was so excited!!! We jumped in after some photos and cruised around Adelaide for an hour ....during which we went to a lock out in the city and had some cool photos...Taken by the coolest limo driver!!...We had two bottles of champas and then arrived at the restaurant
The restaurant was set up amazingly!!!!!!!!! It was a pink and white theme and people were asked to dress in either pink and/or white!
We had dinner, lots of drinks a few games and then the stripper arrived at 10.30pm – he was fab!!!!!!!!! Great fun indeed!!!
It was about 11.30pm and we all jumped into cabs and went to town, we went to a few night clubs and then went home as the sun was coming up!
It was fabulous
Thank you to my maid of honour / sister and my bridesmaids who did such an amazing job!!!!!!!!!!!!!!!!!!!!!!!
Next up is my kitchen tea, which is in 3 weeks!!! YAY
Some Photos Below
XxMinkyxX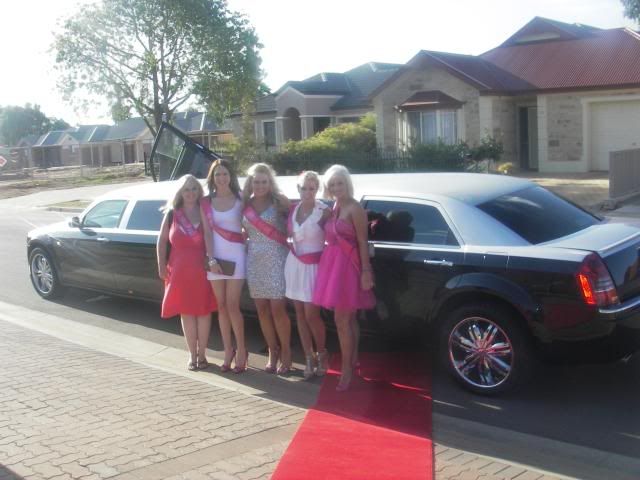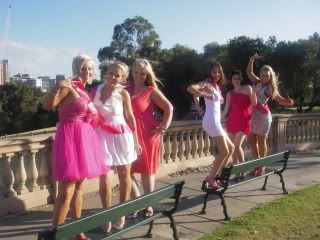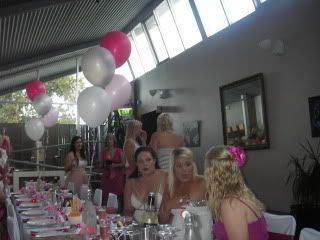 My Mum / Me / My Sister-Maid of Honour