My new husband and I had to postpone our honeymoon (we'd be back by now otherwise) but now we've upgraded and have more spending money and are going to have the time of our lives!
We're going to Fiji for a week to a separate island resort! We're having a beachfront spa bure where we have a beautiful large deck facing the sea with a spa on it and beautiful rooms! There are huge luxurious pools, amazing restaurants, free activities (i.e. canoeing)... Ahhhh, we can't wait!
The Island (Sonaisali - a 3 minute boat-ride from the main island over a lagoon):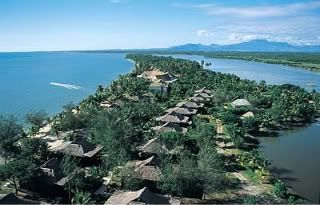 The Beachfront Bure:
One of the pools:
The room (you can see the ocean out the window there... oh baby!):
The private spa on our deck:
It's amazing! We're so stoked and so in need of a holiday and some relaxation!